Transnet's Phelophepa Healthcare Trains are always a welcome sight in communities. The two 19-carriage primary healthcare 'clinics on wheels' make medical care accessible to millions, particularly those in remote communities where there is often a single doctor for every 5 000 people.
Using existing rail infrastructure, the Transnet Phelophepa (Phelophepa) trains bring quality healthcare to a different rural community each week, 35 to 36 weeks of the year, after which time it is decommissioned for routine maintenance and the following year's initiatives are mapped out.
Phelophepa works closely with the National Health Ministry, Department of Public Enterprises, World Health Organization (WHO), the United Nations, and international AHIMSA Global Health Communities of Practice to ensure its beneficiaries come to enjoy 'good, clean health', which is what 'Phelophepa' means in Tswana. Some 120 000 patients benefit by visiting these on-board clinics each year, with more than 250 000 reached through outreach programmes.
When Covid-19 struck, Phelophepa's 26-year programme was disrupted for the first time in its history, with the trains coming to a halt during lockdown. This not only affected communities – it also affected the numerous final-year students from institutions of higher learning both across South Africa and internationally that participate in the project as well as community volunteers who work on the trains. Thousands of students and community volunteers have participated in Phelophepa's basic healthcare education and outreach programmes annually, with more than three million having participated in HIV/Aids and First Aid training, since the project's inception.
The emergency Covid-19 response
At the end of May, with core and logistics staff, managers, and voluntary nursing staff on board, the Phelophepa trains set out to support government's response to the pandemic in the Eastern Cape, a hotspot at the time. In June, they arrived in KwaZulu-Natal, another hotspot. Working with government, they identified areas in which there were gaps in the response due to a lack of infrastructure and mobile technology. They serviced those communities that had been hardest hit by the novel coronavirus.
"Using our operating systems and our ability to mobilise the communities to access the trains, as well as our knowledge of where people typically gathered, we were able to use not only our trains but also our vehicle fleet, to take screening and testing beyond where the trains were stationed," said Transnet Foundation. Transnet further explains that it utilised existing methods of community mobilisation to educate people about Covid-19 and put together resource packs in all the official languages, with Pictograms where literacy levels were low. "We also received donations of hand sanitiser and Covid-19 educational pamphlets through our partnership with Roche, which freed up our budget somewhat, allowing us to focus on other critical project elements."
In partnership with government, Phelophepa mobilised and managed to screen 185 000 people in the Eastern Cape and KwaZulu-Natal within a six-week period. Only those community members who were symptomatic were tested as there was a shortage of testing kits at that stage. Some of the biggest challenges facing the healthcare team included people's scepticism about the virus, crowd control, and overcoming the stigma when community members tested positive. Transnet Foundation explained how its teams in the field had to assure people that Covid-19 is real, not part of a conspiracy, and demystify the virus so that people could confront their fears rather than ignore them. According to Transnet, they offered pre- and post-test counselling for people who were symptomatic; explained to patients that Covid-19 was not necessarily a death sentence, and provided advice about self-isolation.
Emergency services offered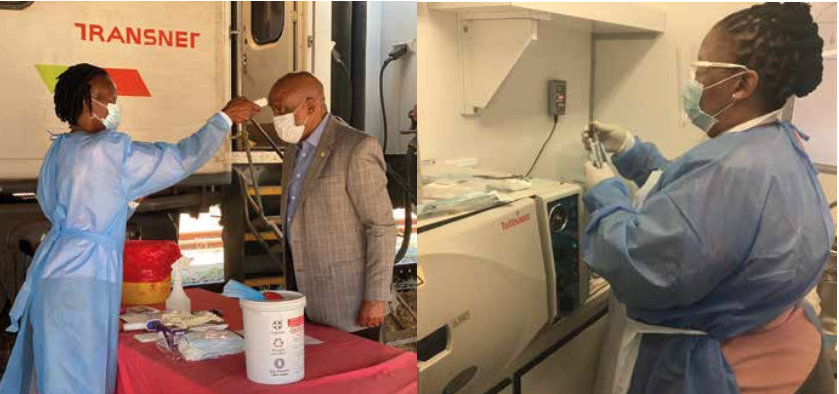 An unfortunate consequence of the pandemic was the fact that Phelophepa's regular health services were affected, making it more difficult to screen for tuberculosis (TB), cancer, diabetes, and other illnesses. Patients were unable to avail themselves of the usual optometry and dental services. "The hard-won gains we made as a country to combat HIV/Aids and TB have been adversely affected during the pandemic," said Transnet Foundation.
However, as the lockdown eased, Phelophepa was able to resume services and take on critical cases. "In consultation with local professional bodies and following the WHO's guidelines, a basket of services was once again offered from 31 August onwards – and in many instances we waived the usual nominal fee for medications, spectacles, tooth extractions and so on, understanding that many people would not be able to afford these at this time," Transnet explained.
One of the Phelophepa trains was deployed to Gauteng for the first time ever, covering Ekurhuleni, (Springs and Olifantsfontein) and Soweto (Dube), while the other was deployed to the North West province, covering Mahikeng, Rustenburg, and Klerksdorp. Services included ensuring that the Phelophepa schools outreach programme incorporated education about Covid-19 into the psychology curriculum and rolling out in communities those campaigns that focused on early screening for cervical, breast and prostate cancer. Phelophepa's edu-clinic set out to ensure that communities were provided with knowledge about prevalent health conditions that they could use even after the trains' departure.
Phelophepa also offered psychosocial support in a radius of around 30km from where the trains were stationed, particularly to schoolchildren and educators, many of whom have experienced enormous mental and emotional stress due to the pandemic. Phelophepa's psychology clinics supported people in the face of job losses and the negative impact on local economies through its on-board counselling programme.
An overwhelming response
The response to Phelophepa's pandemic interventions has been overwhelming. "We put a system in place to allow us to take in 30 patients at a time, but we had to sanitise after every patient, so it was necessary to extend our working hours within safe parameters," Transnet said. "The staff arranged themselves in shifts when needed and responded with absolute dedication and compassion, while following the correct protocols. They worked around the clock with vision screenings and dental emergencies and provided community members with vital information about Covid-19. As never before, Phelophepa has been an absolute beacon in communities."
Health protocols demanded that every work surface was disinfected after each patient, and trains were decontaminated every two weeks. Masks were made available to every visiting patient, and every patient was educated about Covid-19 to entrench awareness.
The trains finally shut down for maintenance in October, with next year's programme already in the planning stages. The aim is to catch up on primary healthcare and receive a new intake of students in 2021. Many consumables like spectacle lenses are scarce or exorbitantly priced and need to be sourced well ahead of time. Communities eagerly await the arrival of Phelophepa trains – and Transnet will live up to its promise of delivering 'good, clean health' in 2021.
– Molatwane Likhethe | Head: Transnet Foundation, Molatwane.Likhethe@transnet.net, www.transnet.net
---